Surveys are a powerful tool for gathering feedback and insights from your target audience. Whether you're looking to improve your product, understand your customers' needs or get feedback on your marketing campaigns, surveys can help you achieve your goals.
However, creating a survey in a foreign language can be challenging. It requires not only translating the questions but also ensuring that they are culturally relevant and easy to understand. In this blog post, we'll share some tips on how to create a survey in English that is effective and easy to understand for your target audience.
1. Understanding the Purpose of Your Survey
Understanding the purpose of a survey is crucial for creating effective and relevant questions. The survey should have a clear main objective, supported by up to three smaller goals. Every question should contribute to answering the "why" behind the research. It's important to think critically and get input from others before finalizing the questions.
The survey's design should also be clear, with instructions provided for participants. By following these best practices, survey creators can ensure that their questions directly support their goals, resulting in higher-quality data and more actionable insights.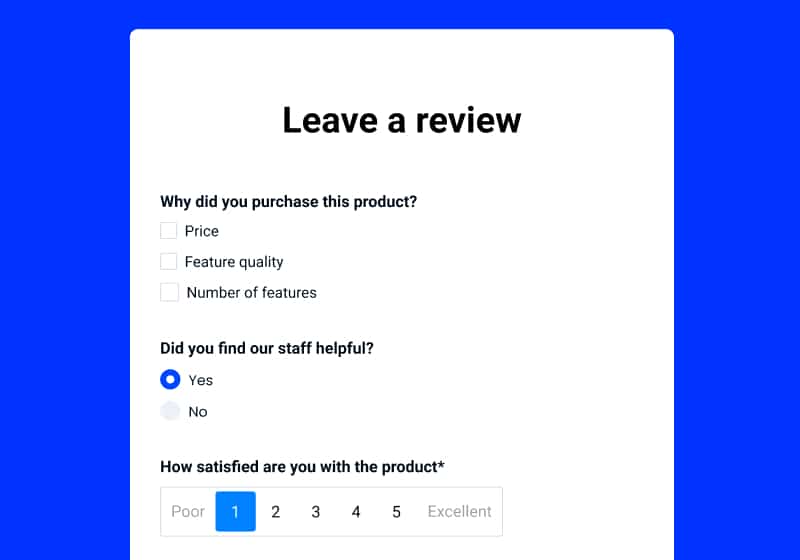 2. Choosing the Right Question Types
After determining the purpose of your survey, the next step is to choose the right question types. One should decide which question type to use, based on the information they seek, their target population, and the number of possible options for a question. Some of the most common question types are open-ended questions, closed-ended questions, and rating questions.
Closed-ended questions restrict the answer choices by providing predefined options, while open-ended questions allow respondents to answer in their own words. Rating questions use scales to measure respondents' opinions or behavior. One should carefully select and frame their questions to avoid bias and leading responses. Ensuring a balanced mix of question types can help create an engaging survey and promote more accurate and complete responses.
3. Writing Clear and Direct Questions
In order to create an effective survey, it is essential to write clear and direct questions. The purpose of the survey should be kept in mind while choosing the right type of questions to ask. It is important to use language that is easily understandable by the target audience. Additionally, survey questions must be concise, clear, and appropriate. Leading and biased questions should be avoided in order to ensure the survey results are objective and accurate.
Keeping the survey short and simple is also important, as it increases the chances of participation and quality response. Designing an attractive layout is another key factor, as it can engage the respondents and prevent them from abandoning the survey midway. Analyzing survey data in real-time can provide valuable insights into areas for improvement.
Sharing the survey with the target audience is crucial to gather sufficient responses for meaningful analysis. Using survey templates and customization options can help to customize the survey as per the requirements of the research. Lastly, implementing actionable solutions from survey results can lead to better decision making for the organization. By following these guidelines, one can create a well-designed survey for fruitful results.
4. Avoiding Leading and Biased Questions
When creating a survey, it is essential to avoid leading and biased questions to ensure accurate and reliable results. Leading questions can influence respondents to choose a particular answer based on the way the question is framed, while biased questions can involve subjective language that can sway respondents towards a specific answer.
To avoid this, it is crucial to use neutral language in survey questions and avoid subjective adjectives. Additionally, it is essential to provide clear and concise answer options to prevent confusion or misinterpretation. By avoiding leading and biased questions, you can ensure that your survey's results are unbiased and provide valuable insights for your research.
5. Keeping the Survey Short and Simple
Keeping the survey short and simple is an essential aspect of survey creation. As discussed earlier, respondents tend to lose interest and abandon the survey when it is too long or complicated. Therefore, the key takeaway is to focus on the essential questions that help make informed decisions and eliminate unnecessary inquiries.
It is crucial to use short, easy-to-understand questions, one question at a time, and avoid overly complex language. Instead of asking 'yes' or 'no' questions, it is better to provide randomized answer options and keep the text neutral.
Another helpful tip is to minimize the number of questions and prioritize clarity, ensuring that the question accurately measures the opinions, experiences, and behaviors of respondents. By following these guidelines, survey creators can increase response rates and obtain accurate data to make informed decisions.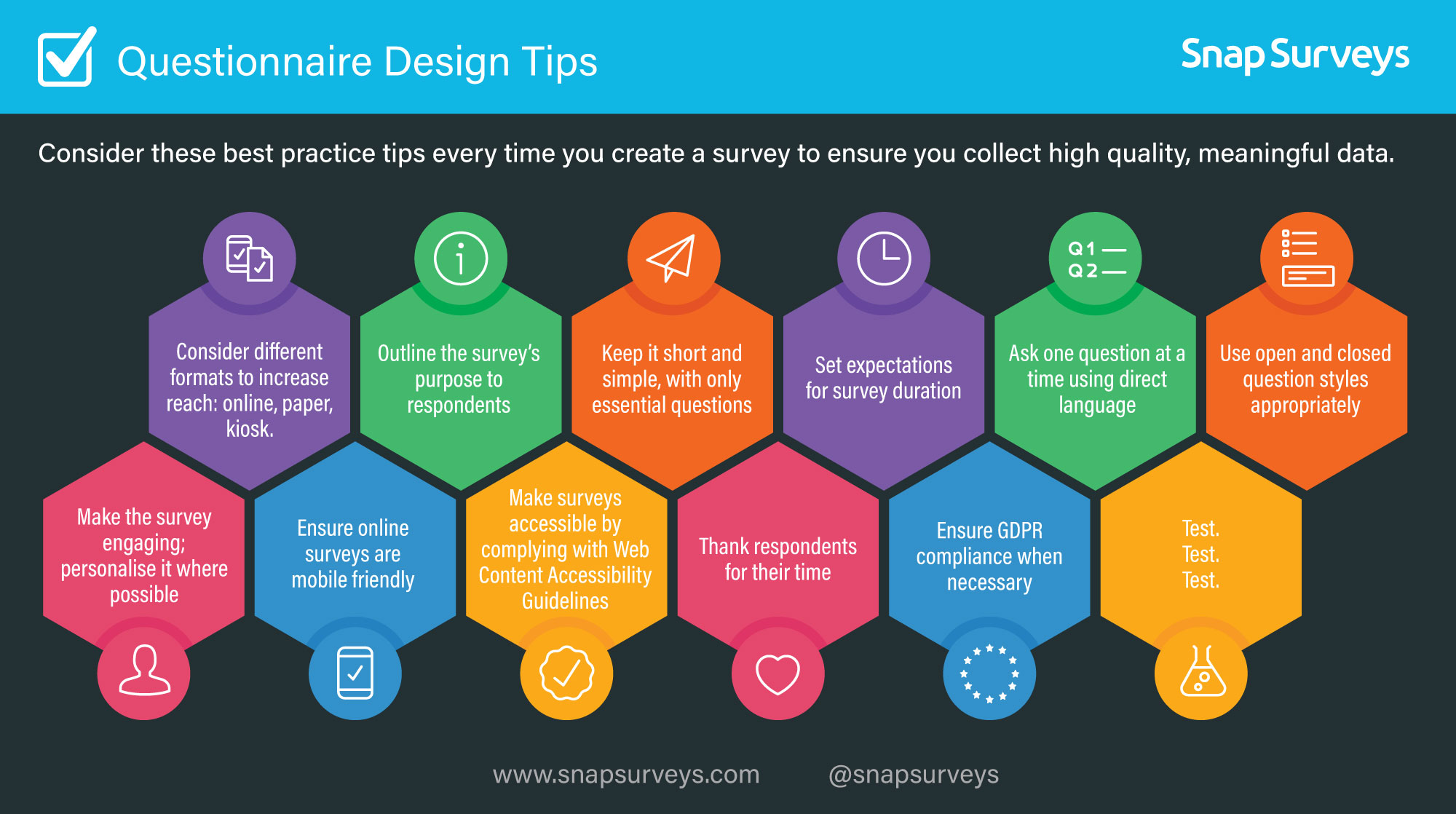 6. Designing an Attractive Survey Layout
Design is a crucial element when it comes to creating surveys as it directly affects the response rate. A well-designed survey can attract more participants and result in insightful data. When designing a survey, it is essential to focus on the layout, color scheme, and typography to make it visually appealing.
Moreover, a clear and concise introduction can help attract respondents and increase their engagement. Including images or videos can also make the survey more interactive and engaging. A responsive design suitable for various devices is another essential aspect of survey design that should not be overlooked. To ensure that your survey stands out and successfully achieves your goals, make sure to invest enough time and effort in designing an attractive survey layout.
7. Analyzing Survey Data in Real-Time
After creating a survey, analyzing the data in real-time is essential to make decisions and improvements based on the results. To do this, it is important to first understand the purpose of the survey and choose the right question types, write clear questions without any bias, and keep the survey short and simple.
Additionally, designing an attractive survey layout and sharing the survey with the target audience can improve response rates. Once the survey is launched, the results can be collected in real-time and analyzed using various tools such as Google Sheets or Excel. It is also important to include the methodology of the research, such as the number of participants and demographics collected.
By creating a narrative around the survey analysis, it becomes easier to identify actionable solutions from the results. Implementing corrective measures based on the survey results can lead to improvements in products, services, or overall customer satisfaction.
8. Sharing Your Survey with Your Target Audience
After creating a well-designed survey, it is important to share it with your target audience to get meaningful responses. There are various methods of distribution, including email, social media, QR codes, website or blog posts, SMS messaging, over the phone, and in-person. It is crucial to choose the best-suited method for your audience.
Additionally, reaching out to a representative sample beforehand can give you an idea of your survey's target. Increasing survey participation requires good survey design, the right methods of distribution, and establishing strong relationships with the audience.
Sharing the survey plays a key role in getting responses and is best achieved by using an up-to-date panel. With these strategies in place, you can effectively reach out to your target audience and gather valuable insights to improve your business or organization.
9. Using Survey Templates and Customization Options
After understanding the purpose of your survey, choosing the right question types, writing clear and direct questions, avoiding leading and biased questions, keeping the survey short and simple, designing an attractive survey layout, analyzing survey data in real-time, and sharing it with your target audience, it's time to consider using survey templates and customization options.
This step can save you valuable time and effort, as it provides ready-made survey questions and layouts that you can easily adapt to your needs. With over 100 templates available, you can select the one that best matches your survey goals and tailor it to your preferences by including images, videos, CAPTCHAs, and calculation fields.
Additionally, 123FormBuilder offers secure survey and questionnaire templates that you can fully customize. By using survey templates and customization options, you can streamline the survey creation process without sacrificing the accuracy and effectiveness of your results.
10. Implementing Actionable Solutions from Survey Results
Once you've collected responses and analyzed the survey data, it's time to take action. Implementing actionable solutions is the final step in creating a successful survey. Use the feedback you received to improve your product, service, or business operations. If there were areas that received low ratings, ask follow-up questions to understand the issue in more detail.
Take the time to prioritize the changes you'll make based on the survey data and create a plan of action. Share the results with your team and use the survey as a tool to drive positive changes. Remember, the survey is only valuable if you take action based on the feedback you received. Use the survey results to make meaningful changes that positively impact your audience and business.
Frequently Asked Questions
What are good questions about language?
What is your favorite language?
Why did you choose to learn the languages that you know?
What are some of the challenges you face when speaking a foreign language?
How has learning a new language changed your perspective on the world?
What role does language play in your identity?
Are there any words or phrases in your native tongue that don't have an English translation?
Do you think that global communication will eventually lead to a single, universal language?
What are your thoughts on artificial intelligence and its ability to translate languages fluently?
What are the categories of the Panorama Survey?
The Panorama Survey is a questionnaire that helps individuals understand their language skills, preferences, and identity. It consists of questions about one's native tongue, other languages learned, and thoughts on language in general. The survey is designed to be taken by people of all ages and backgrounds, with the hope of gaining insights into how language shapes our lives
What are the categories of the Panorama Survey?
The best survey type for this situation is a foreign language survey. This will help individuals understand their language skills, preferences, and identity
How do you ask for language proficiency in a survey?
One way to ask for language proficiency in a survey is by asking respondents to rate their skill level in each language they know on a scale from 1 (not at all proficient) to 5 (very proficient)
conclusion
Creating a survey can be a great way to gather data from a large group of people. However, it is important to put thought into the design of your survey in order to ensure that the results are accurate. Be sure to develop clear and unbiased questions, and test them out on a small group of people before sending them out to your entire target audience. Thanking people for their participation once they have completed the survey is also appreciated.
Latest posts by John Thompson
(see all)